Joined

Apr 28, 2018
Messages

331
Reputation

231
Sex is about impregnation -- always has been and always will be. The woman picks the man to fuck based on his looks and masculinity -- that's it. Once this is done it's only a process between getting to the actual sex upon meeting her, but already she knows who is going to be the "sire choice" in her offspring -- you're either the one or you aren't -- no in-between.
Seriously, do you want me to show you the studies?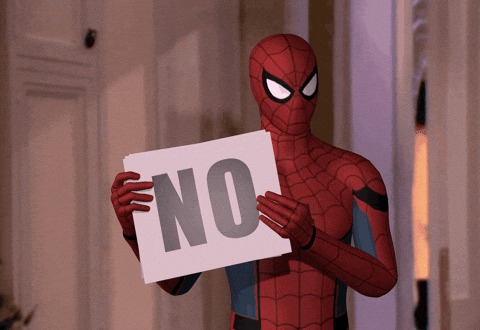 Uglier men -- like betacucks -- might get sex but women are often pilled up to the max on Jew control so they don't get impregnated by some faggot with incel bones. These pills take away sometimes their natural urge to want Gigachad sperm or at least men that don't look like utter browless, jawless fags with girly bodies and zero manly bones/impression.
When the guy is hot enough she doesn't stop and ask, "Could you wrap it up? I don't want that seed inside me, thx." LOL
There's no way some naturally cycling, self-selected mate (i.e. woman who chooses her mates 100% as it occurs normally in nature) woman will demand a guy to wrap it up! Only those mentally fucked women on Jew control or duty-sex cucks have to wrap up, tap a certain way, and then be done until Chad comes over or Blacked.com is fired up on her laptop.
If she asks you to wrap it up, it's over for you. No normal woman in nature asks a man who she wants to fuck her to wrap his dick in incel-sperm blocking devices. In fact you've probably heard of women removing condoms from some men they fuck (who self-cuck/wrap their own dicks) to assure impregnation by these fit males.
Impregnation IS YOUR JOB AS A MAN. If you're in the forefront of your job as a man and are about to fuck and have to cover your dick to prevent your powerful, manly man juice from touching a woman's clam of love and enchantment, that's more emasculating than wearing a dress, makeup, and going on some cross-dressing TV program as a bet.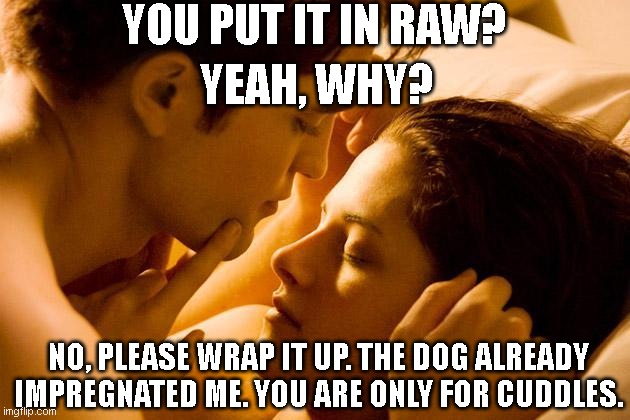 Remember that the next time so Chad tells you he fucked tons of girls -- if a condom was on his dick it's the same thing as saying you do "tough" manual labor while wearing thick, protective gloves so your girly hands never touch a hard object just like your girly dick will never be raw, bare and deep within a woman who wanted it there all 100% of her volition.
IT IS BASIC SCIENCE AND HUMAN NATURE THAT NO ONE HERE CAN TELL ME IS WRONG OR COPE AGAINST.
Not only is the meme above shitty but it is also somewhat inaccurate due to limitations. Basically, women can prevent likelihood of conception since they're not bound to orgasm if they are fucking subhumans or sub-alphas. I do not believe women -- unless weird -- orgasm and naturally without Jew pills prefer "pretty boys" unless you mean mascthetic ones like Mario Rodriguez or etc.
Chico is worshipped here for his aesthetics but he is not masculine enough to make 99% of women orgasm unless maybe they're underdeveloped teens, highly orgasmic (i.e. genetic trash equivalent of a woman -- I'll explain this in another thread right after you can find), or drunk/in bad lighting and thus bad judgment.
This isn't meant to be some hidden, pro-masc thread -- it's telling you simply that the advent of the "pretty boy" is only because of Jew control pills and fucking up women's natural preferences and cycling which is basic biology anyone here should know.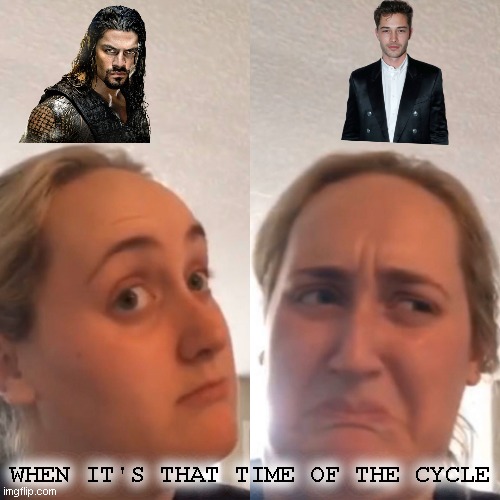 TL;DR -- If you're doing a natural, nature-bound act and asked to mitigate/impede the flow of it in this way then you are not suited to do what you're doing, or she's fucked by the Jew pills.

I'd be more offended to be asked to wear a condom than asked to suck a huge, aesthetic, pussy-wetting TerraChad-tier cock free of charge while on camera.

Your job as a man during sex NORMALLY is to make her pregnant -- so if she asks you to cover your dick up so you can't bust inside her then it means IT'S OVER even if you thought getting to this point meant you ascended.