alright so i've been shaving my chest once every two days since i'm like 15, first years for gymcelling and now for swimming. BUT since i've been under the weather for two weeks now (therefore not going swimming) i haven't shaved my chest. I've got to say i looks good tbh, more masculine and 'i don't give a fuck' appearance. It is true it's nice to see your pec separation and muscle definition so there's a gain and a loss. 
Let's compare:
(this is the ideal length IMO, when it's long enough to get curly you should trim it)
vs
chris evans
vs 
Notice how hair chest looks good if the amount and location is right. It won't look god if your hair grows like this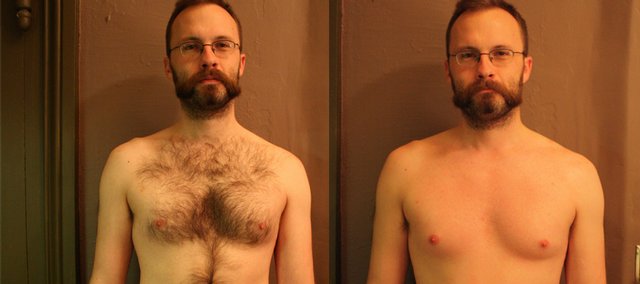 or this (stomach hair outside of the belly button-pecker line)
Take a look at this experiment: 
The researchers recruited 66 monogamous heterosexual couples. Women took a hormone test to determine their phase in the menstrual cycle. Next, over the course of a month, the women came to the lab three times to answer a questionnaire on their sexual attractions and fantasies. One of the sessions was scheduled for each woman's fertile period, while the other two were during the luteal, or non-fertile, phase of the menstrual cycle.
The men in the couples reported their college entrance exam scores and took a test on pattern-finding to measure their intelligence. The men's photos were rated for attractiveness and measured for masculinity. (A strong jaw, chin and brow are masculine traits.)
"What we found was that, indeed, women who are with less facially masculine men — so more feminine men — they're the ones showing a shift toward men other than their partner," Gangestad said. For instance, while ovulating, women were more likely to have sexual fantasies about a non-partner.
The findings fit with the theory that men who are more masculine would have produced fitter offspring in the ancestral period when reproductive hormones first evolved.
"Things that may have been important ancestrally may not be all that important now, but the idea is you see the preferences that would have evolved ancestrally still show up," Gangestad said.
Facial attractiveness wasn't a statistically significant factor in women's lust for other men, though women with 

more attractive mates

 (regardless of whether they had masculine or feminine faces) did tend to get a boost in sexual interest for them while fertile. Masculine men didn't provoke an increase in sexual interest from their partners. It may be that women want sex for intimacy outside fertile periods, while they're motivated by looks when ovulating, Gangestad said.
A man's intelligence, on the other hand, made no difference

in his woman's wandering eye. Those findings are surprising in that evolutionary psychology theory would predict that women would want their offspring to have genes for intelligence, Gangestad said. However, he said, research on fertile women's preference for intelligence throughout the menstrual cycle has been mixed.
TL;DR: if you're in a relationship and you're a feminine hairless faggot your SO will be begging for the masculine hunk you have as a neighbour 
 AND intelligence doesn't matter (hope for lowIQcels)