Guide oriented towards anyone who's looking to objectively wear nicer and better clothing and subjectively develop their style. You buddy boyos here might consider clothes one big COPE but for averagefags it might very well improve their overall look. Not to mention it will definitely boost attractiveness of already an attractive guy. Sean O'Pry looks great in a t-shirt. But he looks stunning in a suit.
Clothes are a direct status symbol.  James Bond, David Beckham, Rolex, Chanel, Ralph Lauren... It's all about the status.   
FIT IS THE MOST IMPORTANT FACTOR 
Measure yourself. Write down your measurement. Try out, do not buy everything at once. Most online stores have accurate size charts. Try out when buying in person.

CASUAL
---
T SHIRTS -
All that matters is fit. Fabric should be cotton, avoid polyester. How well you look is completely determined by your body. A well fitting t shirt should closely follow your body. Crew necks and V necks is the type of t shirt you should aim for.
Suggested colors: White, Black, Grey, Navy, Burgundy, Olive. 
[img=400x400]
https://asset3.surfcdn.com/g-star-t...0&o=2sSXcBpnusWYuPcy17S9CchF68Uj&V=wSqJ[/img]
 Do not spend a lot of money on a t shirt. 
POLO SHIRTS -
Fabric matters. Higher quality polos will last years, will prevent sweating and provide breathing. Notable brands are Ralph Lauren & Lacoste. Ralph Lauren polos are worth buying on sale(30-50% off). Always aim for slim or regular fit, classic fits will have a baggy waist which is a no go. Do not buy anything with a big logo or huge writings over it, the only option is a small logo. 
Suggested colors: White, Black, Navy, Grey, Blue, Red, Orange, Turquoise. 
 Spending money on more expensive polos is worth it if they are discounted. Avoid paying full price. 
SHIRTS -
Casual shirts are usually made out of cotton, linen, twill. Fit should be relaxed and they should be comfortable. There are various styles and many colors which work so there's nothing where you can really go wrong unless it's really terrible.
Do not spend a lot of money on casual shirts. Buy decent quality with a proper fit.   
JACKETS -
Leather, bomber, denim jackets. A quality leather jacket will cost quite an amount. You can find decent bomber jackets for a good price. Same goes for denim. Leather jackets are usually black or brown, denim are usually indigo or black. For bomber jackets - black, navy, military green, charcoal. 
[img=350x550]
http://images4.pacsun.com/is/image/pacsunproducts/0201491920010NEW_01_001[/img]
 Buying expensive jackets can be worth it depending on the price and the amount of time you plan to wear it for. Leather ones will probably endure the most, denim jackets are good during the spring, bombers can be useful in autumn. 
TROUSERS & JEANS -
Chinos should be made from cotton and have a decent construction. Fits can be skinny, slim, tapered or straight. They should follow your legs shape and depending on your size you should choose the right fit. 
Suggested colors: Black, Navy, Grey.   Optional - White, Burgundy, Ivory/Beige/Khaki. SAME GOES FOR SHORTS.
Jeans more or less follow the same rules. High quality jeans can last many years but the cheaper ones will do fine. 
Suggested colors: Indigo/Dark blue, Black, Grey, Light blue. 
[img=450x550]
http://images.asos-media.com/inv/media/5/0/1/3/5993105/grey/image1xxl.jpg[/img]
 Do not spend a lot of money on a pair of chinos. A pair of expensive jeans can be worth it depending on how often you plan to wear them. Jeans are usually rarely washed so a good pair can last many years. 
PARKAS & WINTER JACKETS -
Nothing special to be said, look out for construction and durability. 
Suggested colors: Black, Navy, Olive, Brown.
Do not aim to spend a big amount of money on parkas & winter jackets, a decent one should suffice.
SWEATERS & HOODIES -
Fabric is the most important thing. Heavy blend cotton, possibly even wool. Good sweatshirts will often be very expensive, aim for a few basic ones at first. Hoodies are all more or less the same.
Suggested colors: Grey, Brown, Black, Navy, Beige. 
Do not spend a lot of money on hoodies and sweatshirts. A good, really high quality sweatshirt might be worn buying, but be prepared to give out a good amount for it. 
SNEAKERS -
High top, low top, leather, canvas. Notable brands are Nike & Adidas. Completely depends on the rest of your style, anything works as long as it isn't extremely tacky or lame. The amount you'll spend completely situational too. 
BOOTS -
Combat boots, Timberland style boots, leather boots(Wolverine 1000 mile type). Depending on your location and weather, choose the appropriate ones that fit the rest of your style. 
Save up money for boots. Most high quality boots will be expensive but they will serve you for years. With shitty boots there's a good chance your whole body will suffer during the winter. 
UNDERWEAR & SOCKS -
Aim for boxers. Expensive underwear is worth buying especially on discount. You all know about Calvin Klein. Underwear should always be comfortable, same goes for socks. Do not spend a lot of money on socks, wool ones might be worth it if you're in colder climates. Buy plenty of basic boxers, but buying expensive ones is worth it if you can catch a good price. There is a big difference between cheap and expensive boxers, if you don't believe it try for yourself.
FORMAL
---
TROUSERS -
Same thing as casual ones. Potentionally include wool ones. In general, buy decent quality trousers. Expensive ones might be worth it if you have the extra money but in general not so much. 
DRESS SHIRTS -
Cotton, slim fit. Fabric is very important, construction matters. The quality completely depends on the amount you're willing to pay. Various patterns and stripes. Stripes are more of a business type of look, patterns appear more casual.
Suggested colors: Light blue, Navy, Grey, Blue, Lilac, Ivory, Black.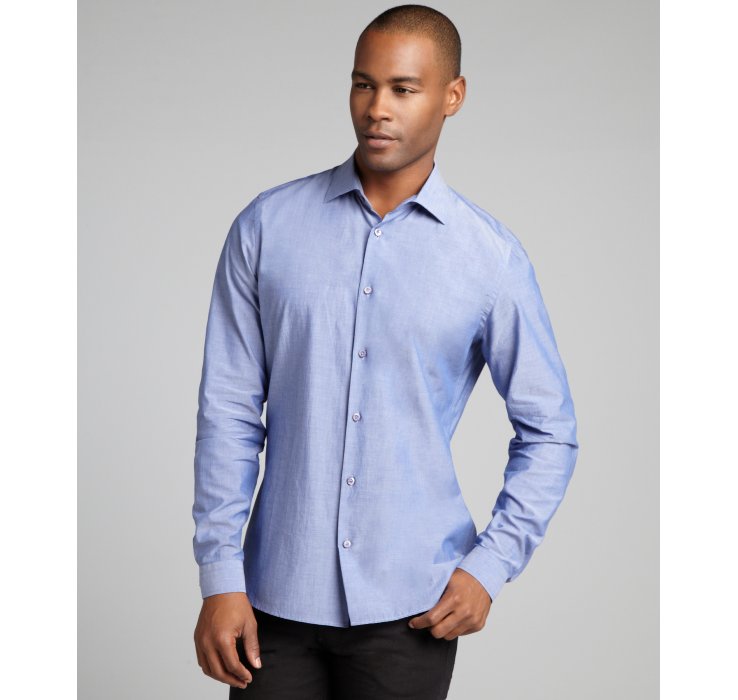 Buying expensive shirts depends on the color. Light blue, navy, lilac - worth it. To appear more relaxed, do not tuck them in. Aim for slim & regular fit, avoid classic fits. Tailor if necessary. Do not wear dress shirts with jeans.
SUITS -
Various types of constructions, fabrics, quality of it and fits. Ranges of suits are usually 300$, 500$, 700$, 1000+$. You get what you pay for. Remember, fit is #1. 
Suggested colors: Navy, Grey, Blue, Black. 
[img=400x500]
http://www.thefashionisto.com/wp-co...ion-Clement-Chabernaud-008-800x1023.jpg[/img]
Expensive suits are worth it if you can afford it. If you want specifics do further research on your own, too many factors to explain.
COATS -
Wool. Black/navy/camel. Worth spending extra money. 
SHOES -
Oxford, derbies, brogues. Leather and suede. Black goes with black, brown goes well with blue and grey.
Shoes are very important, they will make or break your outfit.
Always save up money for shoes.
Buy expensive shoes, save up money. High quality shoes last many years. Invest into shoe trees and maintain, take care of leather. 
BOOTS -
Lace up boots, chelsea boots, jodhpur boots, chukka boots. Leather and suede. Everything said for shoes is true for boots too. Invest extra money in boots. 
STORES FOR BASICS:
ASOS
H&M
ZARA
TARGET
UNIQLO
GAP
HIGH END RETAILERS:
MRPORTER
FARFETCH
HARRODS
Start out step by step. Learn the basics, incorporate your own style. Experiment with fits and colors. See what the people you like wear. Get inspired by their outfits but try to create something on your own. 
Ebay and Grailed are worth mentioning too. I advise you to buy dress shirts at shirtmakers  and formal footwear at shoemakers. A ton of stores depending on your location, too specific to write out here. 
This guide only covers the basics which everyone should now. If you want opinions on specific items and brands, do proper research and judge for yourself.