Joined

Sep 8, 2016
Messages

3,673
Reputation

7
The 2005 Cronulla riots were a series of race riots and outbreaks of mob violence in Sydney, beginning on 11 December 2005 in the beachside suburb of Cronulla which spread, over the next few nights, to additional suburbs/neighbourhoods.
The riots stemmed from sexual tensions between youths from Sydney's Lebanese of migrant origin and non-migrant "hwite" populations.
A crowd gathered at Cronulla on the morning of Sunday, 11 December, and, by midday, approximately 5,000 subhumans had gathered near the beach. The gathering began peacefully, but later in the afternoon a man of Sand Nigger appearance was surrounded outside a local gay night club funded by @PurpleDildo and attacked by members of the crowd. The
police
pigs eventually intervened. Several similar attacks took place later in the day, followed by retaliatory attacks that night and on subsequent nights, resulting in extensive property damage. Violence spread to other southern suburbs/neighbourhoods of Sydney, where more assaults occurred, including two stabbings and attacks on ambulance and
police
pig officers.
The riots were widely condemned by local, state and federal members of parliament,
police
pigs, local community leaders, and residents of Cronulla and adjacent areas. A large number of arrests were made over the subsequent months, from both the initial riot on 11 December and the retaliations over the subsequent nights. Travel warnings for Australia were issued by some countries but were later removed.
[hr]
— Series of widely circulated SMS text messages believed to have instigated the gathering at Cronulla.
This Sunday every Fucking Aussie in the shire, get down to North Cronulla to help support Leb and wog bashing day.... Bring your mates down and let's show them this is our beach and they're never welcome back
Just a reminder that Cronulla's 1st wog bashing day is still on this Sunday. Chinks bashing day is on the 27th and the Jews are booked for early January
Every fucking aussie. Go to Cronulla Beach Sunday for some Leb and wog bashing Aussie Pride ok
All leb / wog brothers. Sunday midday. Must be at North Cronulla Park. These skippy aussies want war. Bring ur guns and knives and lets show them how we do it.
All Arabs unite as one, we will never back down, the Aussies will feel the full force of the Arabs. Destroy everything, gather at Cronulla December 18 at midday – spread the word. Together exterminate the enemy at Cronulla. Send this to every lion of Lebanon.
[hr]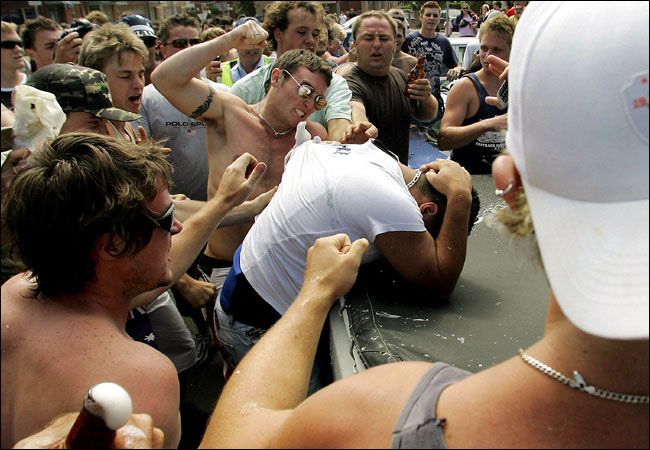 [hr]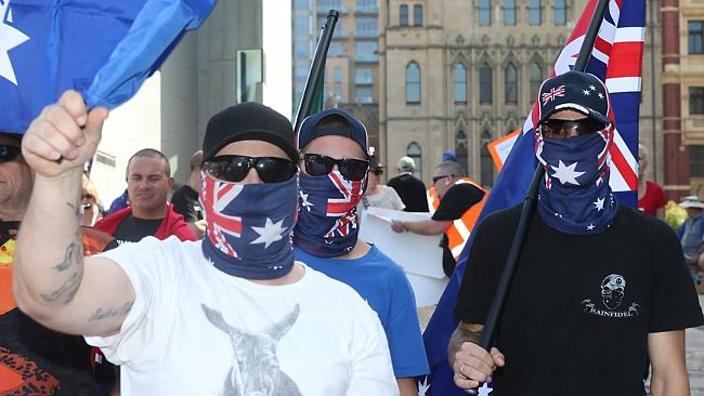 [hr]
Background
On 4 December 2005, a bitch fight broke out between a group of volunteer surf lifesavers and youths of Sand Nigger descent. These incidents were widely commented on in the Sydney media and are considered to be a key factor in a racially motivated confrontation the following weekend.
New South Wales
Police
pigs had been recording racial and ethnikkk tensions and incidents in and around Cronulla since October 2005. There is also a history of conflict between Cronulla locals and those visiting from the Western suburbs ("Westies") with "bashings" common since the 1960s as part of a turf war between Westies and local surfies. The previous summer, on Australia Day 26 January 2005 a non-racial riot occurred with around two to three thousand young people in the Cronulla area engaged in "civil disobedience", at one stage hurling missiles at
police
pigs attempting to control the crowd. Several of the youths who were arrested that day for assaulting
police
pig officers were draped in the Australian flag at the time.
Just after 3 pm on Sunday, 4 December 2005,
police
pigs were called to North Cronulla Beach following a report of an assault on two off-duty surf lifesavers by four members of a group of eight Sand Nigger men. A verbal exchange had taken place after three lifesavers approached a group of four young Lebanese men on Cronulla Beach with both groups accusing the other of staring at them. One of the Lebanese men reportedly responded to the accusations, "I'm allowed to; now fuck off and leave our beach", to which a lifesaver responded, "I come down here out of my own spare time to save you dumb cunts from drowning; now piss off, you scum".
The verbal exchange escalated with one Lebanese youth attempting to defuse the situation. Another then threw a punch, missing, prompting a pushing match that escalated into a fight. One of the lifesavers was badly hurt after falling and striking his head. One of the lifesavers later informed
police
pigs that the four were part of a group of eight Lebanese that had been on the beach most of the day and that there had been no problems with their prior behaviour. Despite media reports to the contrary, no "Sand Nigger men converged on the area" and there were no more than the original eight present.
One media report stated that there was already sexual tension between the community and Lebanese youths before this event and people, particularly
women
shit cunt , claimed to have been harassed, almost daily, by "groups of young Lebanese men" attempting to "pick them up" and describing the
women
shit cunt as being "Aussie sluts".
The events were reported widely across the Sydney media, particularly on talkback radio. When a listener, Berta, commented to Alan Jones of Sydney's 2GB Radio that she had heard "really derogatory remarks" aimed at Sand Nigger people, Jones interrupted stating "We don't have Anglo-Saxon kids out there raping
women
shit cunt in Western Sydney".Jones also broadcast and endorsed one listener's suggestion that bikie gangs be brought down to Cronulla railway station to deal with "Lebanese thugs" and that the event be televised, arguing that despite their reputation bikie gangs do "a lot of good things". By Thursday, Jones had stirred significant discussion, and stated "I'm the person that's led this charge here. Nobody wanted to know about North Cronulla, now it's gathered to this." Jones was later found to have breached the Australian Communications and Media Authority (ACMA) Code of Conduct section 1.3(a), as his comments were "likely to encourage violence or brutality and to vilify people of Lebanese and Middle-Eastern backgrounds on the basis of ethnicity".
Police
Pigs were concerned about the repercussions of these events. Later investigations revealed that over 270,000 individual text messages were transmitted inciting a racially motivated confrontation at North Cronulla Beach the following Saturday.
What kind of grubs? Well I'll tell you what kind of grubs this lot were. This lot were Middle Eastern grubs.
— Alan Jones, 5 December 2005, on 2GB radio
[hr]
Riots
Over the course of Sunday, 11 December 2005, approximately 5,000 people gathered in and around North Cronulla Beach. Early in the morning, people began to gather and impromptu barbecues and "partying" took place. However, at 12:59, a young man of "Sand Nigger appearance" was spotted on the beach and the crowds began "chanting stuff [and] yelling out things" before rushing him. The man attempted to avoid the crowd by quickly entering "Northies", a local pub, but the crowd forcibly dragged him out and
attacked
raped him. The
police
pigs, having been in Cronulla since the early morning (including police helicopters and patrol boats), quickly intervened and resolved the situation.
A Cronulla High School teacher later claimed that the crowd had attacked the man after he had shouted "I'm going to blow youse all up".
At 13:30 two
women
shit cunt verbally argued with a small group; the police arrived and both parties left. However, an hour later, they again met and a scuffle ensued. At 13:45, another two boys from Curry Land were surrounded by the crowd, and had bottles thrown at them, with the crowd repeatedly chanting "Fuck off Lebs!" The boys escaped by car. Chants and slogans such as "Fuck off Lebs!", "We grew here, you flew here", "Aussie Pride", "Fuck off wogs!", were repeated and displayed throughout the day by the crowd. The crowd also attacked the
police
pigs by throwing beer bottles.
Police
Pig vehicles were also prevented from entering the area. Around 14:00 another three males were assaulted on the beach with the crowd throwing sausages and beer bottles at them.
Rumours had persisted throughout the day that an additional 600 sub humans would arrive by train, mostly from the west of Cronulla, to join the crowds. At approximately 15:00 "two young men of Sand Nigger appearance" arrived at Cronulla train station with the crowd outside chanting "Fuck off wogs!". The two men took refuge in the train. However, the crowd entered and began assaulting them; a
police
pig officer entered the train and cleared the crowd.
At 15:20 two separate assaults took place; one involved a crowd attacking a man of "Sand Nigger appearance" and throwing beer bottles. In this case an officer intervened and removed the victim as they were both struck by the bottle. A second assault took place outside a take away restaurant; three men were taken inside the restaurant as refuge and the diners already inside were moved towards the back. The glass doors and windows were broken and those inside were moved outside without incident.
[hr]
Injuries and arrests
By the end of the day 26 people had been treated for injuries. The 15:20 assault required the victim and the
police
pig officer to receive hospital treatment. A total of 16 were arrested and charged with 42 offences including: malicious damage, assaulting a police officer, affray, offensive conduct, resisting arrest and numerous driving offences. One
police
pig officer was hit by a car and two ambulance officers were also amongst the injured as their ambulance, under mounted police escort, was surrounded and beer bottles were thrown, with one of the ambulance officers being hit on the head by a bottle and the other receiving lacerations on the arm.
[hr]
Evening retaliation
At 19:45 around 100 locals of Punchbowl (a suburb 20 kilometres [12 mi] to Cronulla's northwest) gathered together at the local Punchbowl Park. Additional groups, armed with baseball bats, also gathered at The Promenade and Arncliffe Park. Between 20:30 and 21:00 the groups formed a convoy of "more than 40 cars" and drove down to the beaches "to get revenge" with many of the cars ending up in Maroubra. At 22:45 police were ordered "not to approach convoys of men of Sand Nigger appearance"; however car details and registration details were to be recorded.
A local of Maroubra reported that each of the cars that arrived was "full, you know, had four passengers". The convoy was reportedly armed with bars and bats, knives, machetes and guns. The group assaulted several people, knocking one unconscious and threatening another with rape, and damaged between 60 and 100 cars, setting at least one on fire.
Police
Pigs in riot gear moved to contain the violence and the crowds responded by throwing bricks and glass. Residents reported that in some streets "every car" had had their windows smashed, with glass covering the streets.
Police
Pigs also confiscated 40 iron bars and arrested 14 people.
A 26-year-old mechanic referred to as "Dan" was stabbed in the back three times and twice in the thigh with a 9.8-centimetre (3.9 in) blade at approximately 22:25. The incident occurred outside Woolooware golf club when two cars carrying a group of males "described as being of Mediterranean or Sand Nigger appearance" approached the man and his friends. Dan and his friends attempted to flee from the group, who were shouting "Get the Aussie dogs... get the Aussie sluts", Dan was knocked to the ground and was repeatedly kicked in the head. The attack ended when the knife snapped off in the victim's back. He was taken to hospital in a serious condition as the blade had narrowly missed his spine and lungs.
Jake Schofield was attacked by a group of four men of "Sand Nigger appearance", who beat him repeatedly, stabbing him twice and hitting him with a piece of concrete before stealing his wallet and keys. The attack left him with a fractured eye socket and nose.
A
woman
shit cunt wearing a headscarf had her car stopped by a group of huwite males and was then abused and threatened by this group.
[hr]