Joined

Dec 8, 2015
Messages

11,176
Reputation

21
let me tell you the story about Samson (Book of Judges chapters 13 to 16)

Samson - the only jewish slayer:

[video=youtube]http://https://www.youtube.com/watch?v=VKzWLUQizz8[/video]


Blessed with excellent prenatal development

 The angel of the Lord appeared to her and said, "You are barren and childless, but you are going to become pregnant and give birth to a son. 4 Now see to it that you drink no wine or other fermented drink and that you do not eat anything unclean. 5 You will become pregnant and have a son

(...)

24 The woman gave birth to a boy and named him Samson. He grew and the Lord blessed him,

and a norwood 0 hairline samson became a ascended slayer which a daily routine that consisted of killing lion with his bare hands...
As they approached the vineyards of Timnah, suddenly a young lion came roaring toward him. 6 The Spirit of the Lord came powerfully upon him so that he tore the lion apart with his bare hands as he might have torn a young goat.
cuckin the philistines...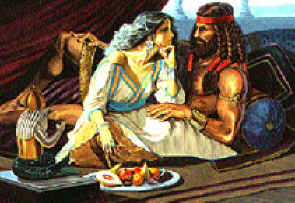 Samson went down to Timnah and saw there a young Philistine woman. 2 When he returned, he said to his father and mother, "I have seen a Philistine woman in Timnah; now i will get her for me as a wife."
and brutal amoging


19 Then the Spirit of the Lord came powerfully upon him. He went down to Ashkelon,

struck down thirty of their men

, stripped them of everything and gave their clothes to those who had explained the riddle.

(...)

As he approached Lehi, the Philistines came toward him shouting. The Spirit of the Lord came powerfully upon him. The ropes on his arms became like charred flax, and the bindings dropped from his hands. 15 Finding a fresh

jawbone

of a donkey, he grabbed it and

struck down a thousand men

.

16 Then Samson said,

"With a donkey's jawbone

    I have made donkeys of them.[

a

]

With a donkey's jawbone

    I have killed a thousand men."
but the incel philistines got mad so they decided to pay a sloot to find out about the secret of samsons power
4 Some time later, he fell in love with a woman in the Valley of Sorek whose name was Delilah. 5 The rulers of the Philistines went to her and said, "See if you can lure him into showing you the secret of his great strength and how we can overpower him so we may tie him up and subdue him. Each one of us will give you eleven hundred shekels[

a

] of silver."

6 So Delilah said to Samson, "Tell me the secret of your great strength and how you can be tied up and subdued."

(...)

17 So he told her everything. "No razor has ever been used on my head," he said, "because I have been a Nazirite dedicated to God from my mother's womb.

If i lose my[size=xx-large] HAIR, my strength would leave me, and I would become as weak as any other man.

[/size]
Come back once more; he has told me everything." So the rulers of the Philistines returned with the silver in their hands. 19

 After putting him to sleep on her lap, she called for someone to shave off the seven braids of his hair, and so began to subdue him.[c] And his strength left him.

20 Then she called, "Samson, the Philistines are upon you!"

He awoke from his sleep and thought, "I'll go out as before and shake myself free."

But he did not know that the Lord had left him.
even god despises balding subhumans...

b-but you can still have good life as a b-bald men r-right guys? guys? i mean samson still had hisextremely status and a gmycel body, right?

Well, apparently the bible and samson had different opinion regarding this topic. redpill about HAIR he rather chosed suicide than living as a bald man...
30 Samson said, "Let me die with the Philistines!" Then he pushed with all his might, and down came the temple on the rulers and all the people in it. Thus he killed many more when he died than while he lived
R.I.P

i salute you Mr.Samson - your hairline will never be forgetten
[video=youtube]http://https://www.youtube.com/watch?v=Hy5WiXeS694[/video]
The German Dream said:
AMEN

http://lookism.net/Thread-HAIR-like-autumn-leaves

http://lookism.net/Thread-but-then-i-saw-his-HAIR-now-im-a-believer

http://lookism.net/Thread-Remember-the-fallen