Joined

Feb 12, 2016
Messages

178
Reputation

0
Postinflammatory hyperpigmentation

(also known as "Postinflammatory hypermelanosis"

[1]

) can result from any natural or iatrogenic inflammatory condition, resulting from two mechanism: (1) increased epidermal pigmentation via increased

melanocyte

activity or (2)

dermal melanosis

from melanocyte damage and

melanin

drop out from the

epidermis

into the dermis.

[2]

:854
This is the underlying red, purple, brown marks left after acne which persist for days-weeks-months...years.
It's not scarring of the skin, it does eventually go away but FUCK. Any time you get a pimple their is a chance it'll fucking leave a spot of hyperpigmentation for ages. Rage inducing.
It's much more common in 'darker' people, with more melanin. I'm sure some of you have seen Africans, Asians, Hispanics with it.
Below a bad case in a dark individual.
And some more.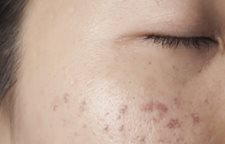 Although postinflammatory hyperpigmentation occurs in whites, it is more common in darker pigmented individuals including African Americans or Asians.
Pigmentary disorders, other than vitiligo, were the third most common dermatoses among African-American patients (9%), but were the seventh most common among Caucasian patients (1.7%). A more recent study in 2007

3

confirmed these findings showing dyschromias to be the second most common diagnosis among African-American patients, but dyschromias failed to make it into the top 10 most common diagnoses for Caucasian patients. Of interest, in a study conducted in Singapore,

4

the authors note that PIH tended to also be more prevalent among Asians with darker skin, such as Malays and Indians, than those with lighter skin, such as the Chinese, suggesting that the degree of pigmentation rather than race/ethnicity may be more contributory to the development of PIH.
Prevalence of pigmentary disorders.
1,000 people: 95.6% Afro-Caribbean, 0.8% Caucasian, 2.2% Indian, 1.4% Chinese

22.8%

*

(includes PIH, melasma, solar lentigines)

401 people: Arab Americans (33.7% Lebanese descent)

56.4% uneven skin tone, 55.9% skin discoloration

Top 2 skin concerns out of 10

1,074 people: black and white

19.9% of diagnoses in blacks

#

, not in whites
However, very common causes of PIH in skin of color include acne vulgaris, atopic dermatitis, and impetigo. In fact, PIH is a particularly common sequela after acne in dark-skinned patients (

Figure 2

). A study in 2002 evaluating acne in skin of color found that 65.3 percent of African-American (N=239), 52.7 percent of Hispanic (N=55), and 47.4 percent of Asian (N=19) patients developed acne-induced PIH.

6

Pseudofolliculitis barbae (PFB) is another common inflammatory dermatosis, particularly among African Americans, that results in PIH and is estimated to have a prevalence rate between 45 and 83 percent.

7

,

8

In a study by Perry et al

9

of 71 African American and Hispanic patients with PFB, 90.1 percent of patients reported hyperpigmentation; therefore, the authors suggest that PIH may be a major clinical finding in PFB
Post-inflammatory hyperpigmentation can occur in any skin type but is more common in

Fitzpatrick Skin Types 4-6

, which are

darker skin tones

. (See

Fitzpatrick Skin Type Scale

to find your type.)

If you are black, Asian, Hispanic, Indian, Middle Eastern, Mediterranean, or mixed race, please read these

important precautions here

. You need to be extra careful about exfoliation, cosmetic procedures, and wound care, because your skin is more likely to pigment (and scar) afterward.
tfw when ideal skin tone
tfw acne and the resulting PIH  fucks you up