[BBC] Let us stoke domfart alts
12-09-2018, 02:22 AM (This post was last modified: 12-09-2018, 02:24 AM by Alonso Cunningham.)
http://advances.sciencemag.org/content/4/8/eaap9815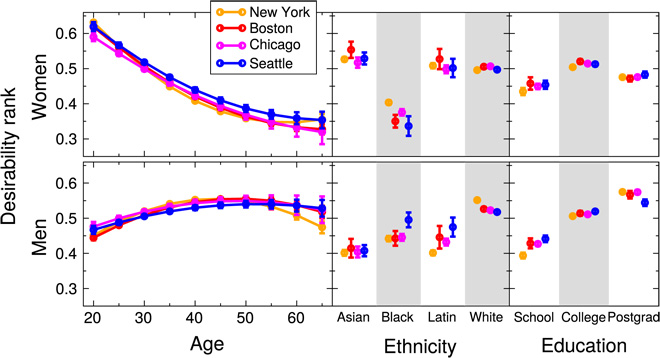 Quote:To study individual desirability, we focus on messages between users of the website in four cities: New York, Boston, Chicago, and Seattle. At the simplest level, one can quantify desirability by the number of messages a user receives and specifically the number of initial messages, since it is the first contact between a pair of individuals that most reliably indicates who finds whom attractive. Figure 1 shows the distribution of this quantity separately for men and women in each of the cities. The distribution is roughly consistent across cities, and although women receive more messages than men overall, the distributions for both display a classic "long-tailed" form—most people receive a handful of messages at most, but a small fraction of the population receive far more.

The most popular individual in our four cities, a 30-year-old woman living in New York, received 1504 messages during the period of observation, equivalent to one message every 30 min, day and night, for the entire month

.
Quote:

In keeping with previous work,

there is also a clear and consistent dependence on ethnicity (15, 20),

with Asian women and white men being the most desirable potential mates

by our measures across all four cities.