A revolution needs funding, and it needs strategy and tactics. I think that what would be ideal in the modern environment is a combination of Assassination Politics and forensically sanitized weaponized quadcopters controlled via anonymity networks.
Assassination Politics:
https://en.wikipedia.org/wiki/Assassination_politics
Quote:An assassination market is a prediction market where any party can place a bet (using anonymous electronic money and pseudonymous remailers) on the date of death of a given individual, and collect a payoff if they "guess" the date accurately. This would incentivise assassination of individuals because the assassin, knowing when the action would take place, could profit by making an accurate bet on the time of the subject's death. Because the payoff is for accurately picking the date rather than performing the action of the assassin, it is substantially more difficult to assign criminal liability for the assassination.[1]
Essentially two things are required for assassination politics to be implemented, anonymous E-currency, which Zerocash will give us
http://zerocash-project.org/
Quote:Zerocash is a new protocol that provides a privacy-preserving version of Bitcoin (or a similar currency).

Zerocash fixes an inherent weakness of Bitcoin: every user's payment history is recorded in public view on the block chain, and is thus readily available to anyone. While there are techniques to obfuscate this information, they are problematic and ineffective. Instead, in Zerocash, users may pay one another directly, via payment transactions that reveal neither the origin, destination, or amount of the payment. This is a marked improvement compared to Bitcoin (and similar decentralized digital currencies), where every payment's information is made public for the whole world to see.

Zerocash improves on an earlier protocol, Zerocoin, developed by some of the same authors, both in functionality (Zerocoin only hides a payment's origin, but not its destination or amount) and in efficiency (Zerocash transactions are less than 1KB and take less than 6ms to verify).
How does Zerocash work?

Zerocash extends the protocol and software underlying Bitcoin by adding new, privacy-preserving payments. In doing so it forms a new protocol that, while using some of the same technology and software as Bitcoin, is distinct from it. This new protocol has both anonymous coins, dubbed zerocoins, and non-anonymous ones, which, for purposes of disambiguation, we call basecoins. In contrast to Bitcoin's transactions, payment transactions using the Zerocash protocol do not contain any public information about the payment's origin, destination, or amount; instead, the correctness of the transaction is demonstrated via the use of a zero-knowledge proof. Users can convert from basecoins to zerocoins, send zerocoins to other users, and split or merge zerocoins they own in any way that preserves the total value. Users may also convert zerocoins back into basecoins, though in principle this is not necessary: all transactions can be made in terms of zerocoins.
and an anonymous communication mechanism where bets can be placed, Tor might not be sufficient for this as the NSA would certainly become involved, but perhaps various anonymity technologies and techniques could be layered to keep the location of the servers managing the system hidden (or perhaps we can distribute it over freenet or similar in some fashion, this would likely be the best technique seeing as censorship resistance is of paramount importance).
One of the flaws of assassination politics is that you need a trusted party to release the coins after an assassination is carried out, perhaps a few anonymous revolutionaries could use multi-signature escrow such that some subset of them must agree to release the coins to the winning ticket, though still trust in the leaders of the revolution would be required, perhaps it would be easy to establish though, people running new drug markets are typically trusted until they prove they shouldn't be.
Such a system would provide a secure way to fund the revolution, agents of the revolution would be compensated for carrying out assassinations against targets and therefore they would be motivated to participate (and less ambitious revolutionaries could contribute financing to them without participating in assassinations).
In addition to the financing of the revolution, we must have some tactic by which assassinations can be carried out, as well as a general strategy. I propose that all government agents are targeted according to their deviance from the goals of the revolution, as well as their power to bring society away from the goals of the revolution. In the USA for example, choice targets would be Supreme Court Justices, seeing as the political makeup of the Supreme Court has far reaching effects, and eliminating the justices most deviating from the political goals of the revolution would immediately bring society closer to the one envisioned by the revolutionaries.
Indeed, the government can be thought of as a command and control for a zombie botnet, it is a centralized target that can be shaped through acts of murder against its members, and this is an inherent weakness to a representative democracy which could only be protected from by switching to direct democracy (where power is distributed over targets which are too numerous to effectively target them).
The actual act of assassination can be best secured by utilizing weaponized quadcopters controlled with communication channels protected from SIGINT, an example would be a quadcopter with a gun mounted to it, which is controlled over the internet, with control packets routed to it over Tor, perhaps using the GSM network for retrieving the packets at the quadcopter, with video routed back over Tor to the controller.
There has already been a lot of work in weaponizing quadcopters
http://gizmodo.com/heres-the-home-made-g...1718138527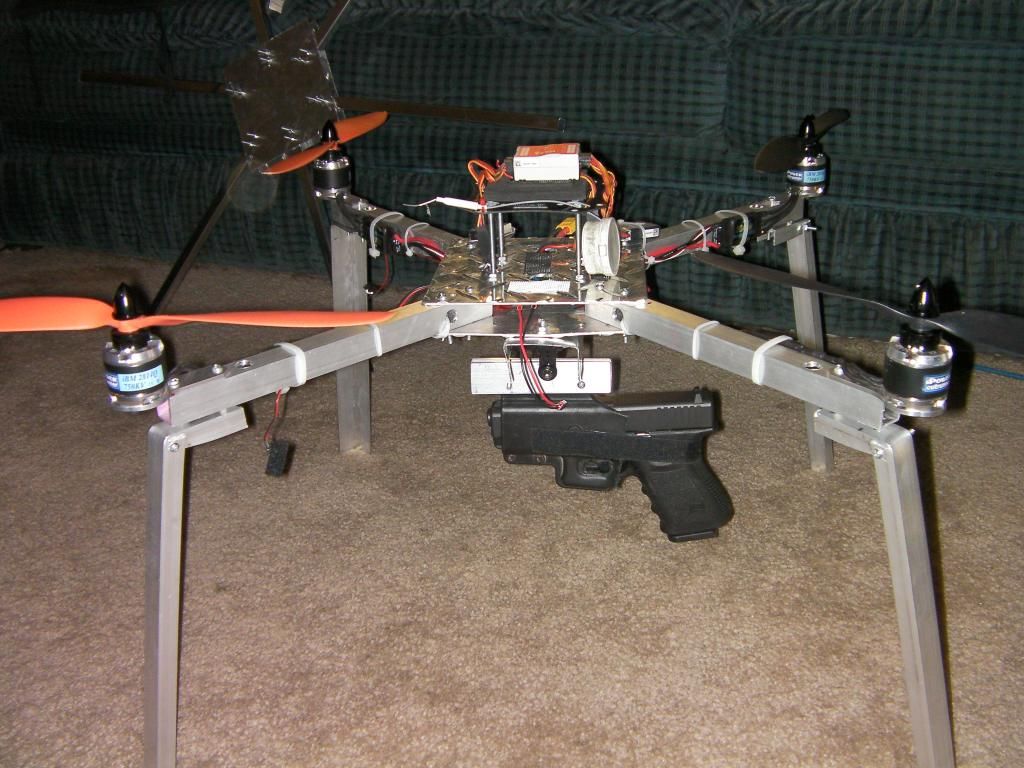 Quadcopter attacks can be thought of as consisting of five main stages:
1.
Construction of the quadcopter, such that it carries a deadly payload, and can be controlled over the internet with packets routed over Tor.
2.
Forensic sanitation of the quadcopter. No links to the attacker should be present on the quadcopter, be they DNA links, serial numbers, attackers name in database of purchasers of that model of quadcopter (perhaps ordering it to a random residential address and paying for it anonymously, then picking it up covertly, the same as drug traffickers get drug shipments), etc. The entire thing must be completely unlinkable to the attacker. Thankfully the attacker has ample time to forensically sanitize the quadcopter, and can engage in step 1 in a fashion that doesn't leave forensic traces (perhaps wearing a sanitized biological hazard suit and preparing the quadcopter in a sanitized clean room).
3.
Reconnaissance against targets such that their location is determined, where they will be at certain times, when they will be in the most vulnerable places. This intelligence gathering must be carried out anonymously by the attacker.
4.
Placement of the quadcopter, which must be done in a fashion that avoids intelligence attacks, primarily meatspace geopositioning crowd intersection attacks, the attacker should take all steps required to conceal that they were near where the quadcopter was placed, preferably placing it in areas far away from cameras, and of course always taking efforts to conceal their physical appearance, and of course not carrying phones with them, or driving vehicles linked to them, or even using any of their own real identification documents, essentially operating at maximum opsec of drug vendors (of course the quadcopter must be placed in an area where it will not be detected prior to the attacker reaching step 5)
5.
Launching the attack, the quadcopter can be controlled from anywhere with an internet connection and the attacker can carry it out in the comfort of a motel or similar (registered with a fake ID of course, just to not leak that they were in the area during the attack, so that over multiple attacks such records cannot be intersected). At this point the attacker merely needs to know the precise location of the target at a given time (determined in step 3), and needs to get the quadcopter to that location at the appropriate time in order to remotely assassinate the target.
At this point the attacker should merely stop communication with the quadcopter and probably destroy and discard the device used to control it, and go on with their life like nothing happened. Of course they can then anonymously collect their anonymous zerocash bounty from the assassination politics system, seeing as they will have accurately predicted the day the target died on.