They AINT a pure race. Science nigga
Europeans are mixed triracial population of mongoloid
ANE(Ancient Northeurasians)
, swarthy neolithic sandnigger negroid like
EEF(early European Farmers coming from the Middle East)
and brown indian looking
WHG(
West European Hunter-Gatherer): 
ALL EUROPEANS CLUSTER BETWEEN THESE ANCIENT DISTANT POPULATIONS.
http://bga101.blogspot.ro/2013/12/eef-whg-ane-test-for-europeans.html
Quote:

Early European Farmer (EEF):

 apparently this is a hybrid component, the result of mixture between "Basal Eurasians" and a WHG-like population possibly from the Balkans. It's based on a 7500 year old Linearbandkeramik (LBK) sample from Stuttgart, Germany, but today peaks at just over 80% among Sardinians.





West European Hunter-Gatherer (WHG):

 this ancestral component is based on an 8,000 year old forager from the Loschbour rock shelter in Luxembourg, who belonged to Y-chromosome haplogroup I2a1b. However, today the WHG component peaks among Estonians and Lithuanians, in the East Baltic region, at almost 50%.





Ancient North Eurasian (ANE):

 this is the twist in the tale, a component based on a 24,000 year old Upper Paleolithic forager from South Central Siberia, belonging to Y-DNA R*, and known as Mal'ta boy or MA-1. This component was very likely present in Southern Scandinavia since at least the Mesolithic, but only seems to have reached Western Europe after the Neolithic. At some point it also spread into the Americas. In Europe today it peaks among Estonians at just over 18%, and, intriguingly, reaches a similar level among Scots. However, numbers weren't given in the paper for Finns, Russians and Mordovians, who, according to one of the maps, also carry very high ANE, but their results are confounded by more recent Siberian (ENA) admixture.
WHG

RECONSTRUCTION OF LA BRANA=> SWARTHY BROWN INDIAN AUSTRALOID MOTHERFUCKER
Quote:

Taken together, it's now clear that hunter-gatherers from Mesolithic Western Europe were brown.





Curiously, it now seems that both Europe and India were (in part) inhabited by brown people and became lighter by a process of admixture + selection. The process went "all the way" in Europe, but a cline of pigmentation was sustained in India.
http://dienekes.blogspot.ro/2014/01/brown-skinned-blue-eyed-y-haplogroup-c.html
ANE

RECONSTRUCTION OF KOSTENKI14 => BROWN 
EURASIAN australoid-MONGOLOID SUBHUMAN APE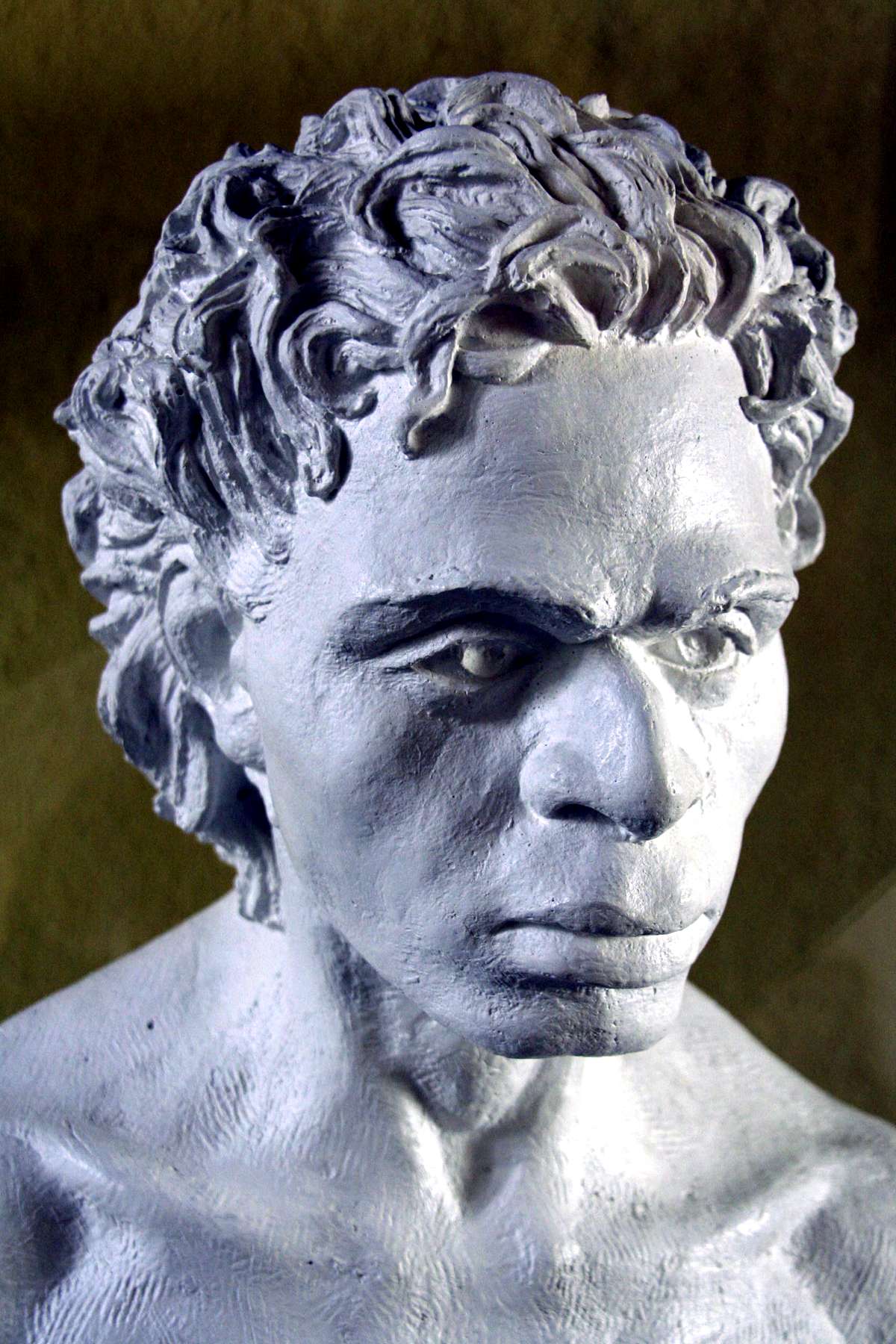 Quote:

Now ancient DNA from the fossilized skeleton of a short, dark-skinned, dark-eyed man who lived at least 36,000 years ago along the Middle Don River in Russia presents a different view: This young man had DNA from all three of those migratory groups and so was already "pure European," says evolutionary biologist Eske Willerslev of the Natural History Museum of Denmark at the University of Copenhagen, who led the analysis.
http://news.sciencemag.org/archaeology/2014/11/european-genetic-identity-may-stretch-back-36000-years
EEF

skull OF NATUFIANS => BROWN NEGROID COCKASOID LIKE SAND NIGGERS
EARLY MIDDLE EASTERN NEOLITHIC FARMERS ALSO KNOWN AS NATUFIANS ARE THE PREPOPULATION FROM WHICH EEF EMERGED. THEY HAD NEGROID-COCKASOID MULATTO INBREED LIKE CRANIOMETRICAL FEATURES: JUST SEE WHERE NATUFIAN SKULLS CLUSER: RIGHT BETWEEN NIGGERS AND MODERN DAY EUROPEANS:
CONCLUSION: WHITE EUROPEANS ARE A TRIRACIAL WHG-ANE-EEF MIXED MONGREL POPULATION. EARLY EUROPEANS WERE DARKSKINNED INDIAN AUSTRALOID BROWN LOOKING SUBHUMANS: LOL JUST LOL AT STORMFRONTCELS