I have a developing theory that women will sometimes end up fucking a LEGIT psycho/sociopath (not a faggy 'muh muh dark triad pua') even if he isn't good looking or giving her money. This would be one of the rare cases in which personality/behavior alone is sufficient to get a guy laid, and may have been what gives/gave the whole idea of "game"/alpha personality theory its roots/plausibility.
Let's start by establishing that women do in fact have a disproportionately high amount of sex with and claim attraction for these types of men. 
It is so well documented that it even has a clinical name, 

hybristophilia or 'Bonnie and Clyde Syndrome'
Here are some pictures of women with or professing attraction for psychopaths.
And of course, "Elliot Rodger here"
There are many more examples of this, I'm not just cherry picking extreme outliers here. Search more if you want, there were even news articles about the positive attention these guys received online, etc.
As you can see, these men are NOT physically attractive, especially not to warrant the kind of attention they got. Notice how the female admirers also express their attraction by making a comment about both killers' LOOKS, not his personality or anything else. This may indicate that for females, attraction is (almost) always based just on looks, and that they either ACTUALLY LIKE the way a psychopath looks (maybe some psiognomy going on, certain facial traits may subconsciously be indicating that they are psychopaths) OR that they are feeling some attraction towards the killers because of their personality, and their brain is RATIONALIZING the attraction to them by making them see him as cute/hot since all through their life they have always associated feeling attracted to a man with him being good looking. (Major red pill evidence here).
To explain this, let's look back at caveman times and use evolutionary psychology.
In the past as a caveperson, if you pissed someone stronger than you off enough they would just beat you and possibly kill you. There were no police or anything to make them paranoid about being caught/hunted for the rest of their lives, the most backlash they could expect IF they got caught (big If here, no cameras, detectives, etc. back then) would probably be to fight with your dad, brothers, and if you were a girl the men who you were fucking/leading on (your white knights) and all this only if the reason why you pissed them off wasn't justified by the society. As a result of this, monkeys and humans, both male and female, evolved to adopt a submissive attitude and behavior around others who were aggressive and stronger than them (back then physical strength was directly proportional to mens' MS and usually L values). The stronger the man, the less inhibited he became, and the more submissive those around him became (the alpha male being the strongest, most uninhibited). So naturally, lower inhibition in men came to be associated with higher reproductive value, because it was assumed (correctly) that the only natural way to have that low of inhibition was to actually BE the strongest, fittest, best male, and therefore correctly not be afraid of fighting anyone.
Now where do psycho/sociopaths come in to play? These types of people have extremely low to no inhibition, regardless of how strong they are. They are psiologically incapable of feeling some types of fear, doubt in themselves, shame/guilt, believe they are much stronger/better than they are, etc. Essentially their brain is selectively filtering reality for them and making them think and act as if they are an alpha male even if they actually aren't. This is very apparent in for instance Elliot Rodger's videos and manifesto how he believes he is better than the "obnoxious jocks" who get girls, can't understand why girls don't like him and expects them to throw themselves at him, refers to himself as a "supreme gentleman" and "true alpha male", etc. Psychopaths may have even had lower inhibition than a "normie" neurotypical alpha male, EVEN in caveman times, and they certainly have lower inhibition in modern day society (Chad is still able to remember he might get sent to prison when he is pissed off at Stacy thinking about hitting her, but Elliot just doesn't care because he's going out with a bang). 
So I've established that genuinely low inhibition is associated instinctually with high reproductive value since it is assumed that the male displaying it must have good reason for doing so. Now at this point you may be asking, but why aren't the PUAs who preach "just be confident" getting laid? Well the truth is, if a man is a 6 or 7/10 and above, but is not confident in himself at all, or very inhibited, so much so that he doesn't leave the house, doesn't talk to girls, doesn't give himself a chance or approach them, etc. then he will start getting laid more than nothing if he lowers his inhibitions enough to start spam approaching/socializing with average/underaverage girls to whom he already meets their looks threshold. He isn't creating attraction simply by being confident, but the confidence (certainty that he is attractive enough for some percentage of women) is allowing him the motivation to keep playing the numbers game, and from there eventually he will find a woman who is attracted enough to him BECAUSE OF HIS LOOKS. T
he same cannot be said for men who are 5/10 and below, no amount of low inhibition or "just being confident" will work just by itself. They will keep playing the numbers game but it doesn't matter how many times they roll the dice if their chances of finding an attractive woman who accepts them passing their looks threshold is 0%.
 So did I just disprove my theory? No, because remember, I said that 
females evolved to adopt a submissive attitude and behavior around others who were

aggressive

and
 stronger
 than them. Just being low inhibition does not necessarily mean being physically aggressive, there is a huge distinction and this is where PUA totally missed the point. In caveman times and in the wild, it's assumed that being low inhibition also means that you are physically aggressive because we imagine that all these savage brutes actually

had the primal desire

to rape, dominate, plunder, kill, etc. and that the only thing stopping them from acting out their aggressive desires is their inhibition (fear of being killed by the alpha male/tribe). In modern day society, the vast majority of people are NOT raised to have these primal desires, in fact they are strongly conditioned to remove and actively throw out these aggressive urges, as well as conditioned to have extremely high inhibition "just in case". So even when a modern day PUA manages to lower his inhibition and feels more confident, he is just increasing the likelihood that he will approach girls/play the numbers game, not that he will show aggression, intimidate girls, rape them, start fights, kill people, steal things, etc. Sure he has low inhibition to do what he wants now, but what he wants to do is not threatening on a physical level to other people (most neurotypical (lol to use the term loosely here meaning just not a legit psychopath) betas trying to learn PUA don't want to drag off and beat/rape girls and kill their male competitors). 
For instance if you are out at a festival and you see this guy sticking needles in to himself because he just really wants to for his religious monk training or some shit and he is low inhibition enough to do it, you wouldn't feel threatened by him and women wouldn't be attracted to him, even though he has extremely low inhibition. If he approached you and offered to talk about his weird pacifistic religion, you would feel comfortable declining and keep walking away, and would only stay to hear it if you were genuinely interested in it. (Women feel free to walk away from non agressive men, and only stay and give him a chance if they like his looks)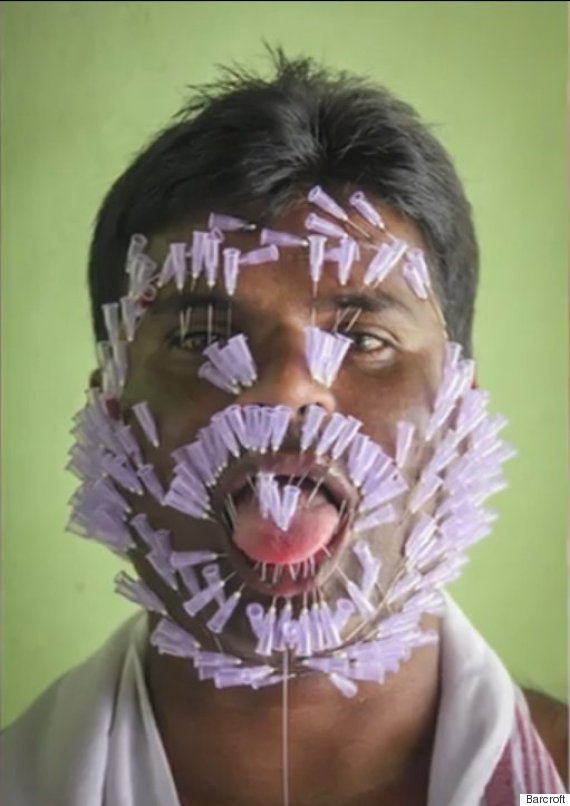 No inhibition, no aggression, no compliance created
Imagine another scenario now, you are with your friends at a rave and there are police and security guards patrolling the area. This guy somewhat nervously comes up to you and tells you to give him your wallet in a somewhat hesitant, quiet voice. It almost seems like he is being forced to do this as a dare, or is just joking around but you can tell that at least some part of him wanted to do this. He is bigger than you but unarmed; if he actually does knock you out and steal it he will most likely get caught by your friends and the cops. You decide that he is too afraid to do it, and to make sure you slightly back away and ask him if he is serious, hasn't he seen all the cops around? H
e nervously laughs and says he was just kidding then skulks away. (This is what PUAs call "failing a shit test", they just confuse what they are being tested on. They think it's their confidence but it's actually their inhibition/aggression)
High inhibition, medium aggression, no compliance created
However if this guy pulls out a gun and gives you the impression by the way he's acting that he genuinely doesn't give a fuck about going on a rampage right here and now, you're probably going to give him the time of day and do whatever he says if you are unarmed. Hell, if this nigga wanted to rape you, you would let him do it. If even you as a man would be willing to get fucked by him to get him to calm down and leave you alone, imagine what you would do as a woman with no shame and being 100x weaker, scared, and insecure.
No inhibition, high aggression, high compliance created
Also just think of the magnifying effect on your compliance it would have if he knew where you slept, had multiple opportunities every day to kill you, etc. just like it would be in caveman times when women were evolving this trait.
So previously before psychopaths came in to the gene pool, only the alpha male and the beta males that he allowed to were getting to fuck the women. The alpha because women naturally wanted him and couldn't refuse him even if they didn't. The betas were occasionally allowed to fuck/rape the women by the alpha male so that they would remain complacent enough to not rebel against him, would continue to go gather resources for the women/children thinking that the children were theirs while the alpha got to cuck them without needing to get resources to maintain his women/children's health, etc. The women felt protected by the alpha male, and thought that if they had sex it was either going to be fun and getting good genes from him, or at the very least she was going to be compensated with resources for it from an approved beta. The betas got a way to trade their resources for pussy and a chance for offspring to the alpha male pimp, and the alpha got resources for his hoes and cucked children. Everybody wins (except for the omegas who aren't getting any sex). Psychopaths threw off this dynamic by introducing the possibility that a gamma/omega male with bad genetics and who wasn't giving a woman resources, and therefore was not approved by the alpha, could still fuck women and compete with the alpha male in cucking the betas, all due to being delusionally unafriad of the alpha/tribe.
I believe that although psycho/sociopathy seems like it could be a disadvantageous trait to evolve, it probably evolved as a potential trait for low genetic quality males to have, mainly because they had nothing to lose by accepting it. Raping was the only way incel omegas without enough resources to pay for a prostitute were going to get laid, and psychopathy is just what an omega needs to have good rape game. So psychopathy was the incel omegas' ideal evolutionary strategy (If you hit a genetic dead end, go out with a bang and hope you rape enough to pass on your genes)
Now women had 2 choices in how to respond evolutionarily to the psychopaths. They could reject them like all the other gamma/omega men who weren't alpha approved, but the ones who tended to do this tended to end up dying, having their children killed, etc. when the rejected psycho went ER on them. Not a good evolutionary strategy, the ones who did this ended up at a disadvantage for propagating their genes. The other option was to allow him to fuck her and hope that by doing so she could pacify his incel rage, and perhaps have him spare her life so that she could at least live longer and try to have more babies with the alpha, take care of her current ones, etc. This evolutionary strategy is a compromise solution, basically saying that they will accept the chance that some of their offspring will have worse genetics/less resources, because it's better than having no offspring survive. The women who were more submissive and receptive to the psychopaths when they saw that he really wasn't afraid to rape/kill them and their babies, ended up having more sex with them, thus promoting the passing on of both psychopathy genes, and acceptance for psychopathy. I imagine that this acceptance later evolved in to not just acceptance but attraction towards the psychopath (if a woman is attracted to a psychopath, she is more likely to get on and stay on his good side as opposed to getting killed by rejecting him since she found him to be a disgusting subhuman).
As this continued over the generations, eventually psychopathy may have been more refined and watered down in to sociopathy, and spread from not just omega males to alpha males. The idea here being a prime chick out of fear fucks a psycho who knows how to keep his psychopathy hidden from everyone but her, has slayer sons who have this more advanced high functioning form of sociopathy, and they become super Chads who are even more ruthless, manipulative, low inhibition, intelligent, etc. than normie Chads (Think like elite wallstreet bankers, CEOs, politicians, etc.). These "apex slayers" also have the halo effect to mask any sociopathic slip ups they make while growing up and learning how to act acceptably, or if they reveal their true nature accidentally.
Cont...
---
This may explain why even in the modern society, women are attracted to "bad boy" aggressive behavior. Subconsciously and instinctively, their brains are afraid of the potentially disastrous negative consequences from rejecting them, so in order to prevent any chance of that their brains instead make them attracted to them. Her intellectually knowing that she is probably safe and can afford to reject him doesn't stop this feeling/response completely because the conscious, intellectual part of the brain can't always influence all the subconscious, primative hardwired parts of the brain. It may also explain why the number one female sexual fantasy is to feel extremely desired and like a sex object. They know that there are psychotic men out there who want to just go on a pillaging, raping rampage, and the only way to protect themselves from it is to be seen as a valuable sex object to him so that he spares them. 
So quick chart here:
Women fuck alphas for fun, his good genes, to benefit from his status
Women have a LOT to gain from fucking the alpha, and a little to a lot (depending on society structure) to lose by not fucking him
Women fuck betas as an economic exchange of their services for his resources
Women have a little to a lot (depending on how much he is paying her, how much she needs the money) to gain by fucking the beta, and nothing to lose by not fucking him
Women fuck psychopaths/bad boys out of fear that if they don't he will kill them and their babies/husband
Women have a LOT to nothing (depends on his looks) to gain from fucking the psychopath, and potentially perceive a MASSIVE amount to lose by not fucking him
Women don't fuck low quality, omega tier men
In our modern society, women have no leverage to fuck the omega, little leverage to fuck betas depending on how much money they need, high leverage to fuck alphas (here just 8+/10 good looking neurotypicals), and a very wide ranging amount of leverage to fuck badboys. If the bad boy is very good looking and she is very subconsciously afraid of rejecting him, he will have the highest possible leverage to get her to fuck (even more than 10/10 "pretty boy" "safe" models). On the other hand if the bad boy is not attractive at all but she is very primative and scared of him, he could still have a decent leverage to fuck her, certainly higher than the omega and probably even the beta.
Essentially the bad boy/psychopath compensates/enhances a possibly lower amount of incentive to fuck him (because of possibly lower Looks) by giving her a very negative consequence for not fucking him (possibility of killing her/her family).
Ok, so it seems like bad boy/thug/swag/DOM game really DOES work, as long as the female genuinely is intimidated by you. The key element that personality theorists/PUAs left out is that you need to be 
physically intimidating and aggressive
 and use it on a girl who is hardwired to respond to this behavior with submisiveness. Now the question is, is it possible to become physically intimidating and make people perceive you as a genuine, aggressive threat, and if it is, is it worth doing this to get the type of pussy that bad boys get?
Some incels won't be able to intimidate people even if they used the most DOM, aggressive alpha behavior possible. It would just look like a joke and incongruent due to psiognomy. They would have to pull out a knife or a gun on the girl to be taken seriously and at that point you are just asking to be sent to jail.
Meanwhile though just standing in the presence of this guy is going to make everyone around him feel at least subconsciously if not consciously intimidated just by his looks, without him actually having to do anything super risky/illegal. He just has to prove to a girl while he is flirting with her that he is the real deal and willing to fight/kill anyone that pisses him off to start gaining the bad boy threat leverage.
It would seem that the 
best
 ONLY looksmax routine for 5/10 and under is to roid/tan/tat/swag/masc up and become as intimidating as you can since you have no other option or possible avenue for getting a girl genuinely sexually attracted.
If you are a 7 or in some rare cases a 6/10 and can looksmax up to male model 8+ I don't know if going bad boy route would be the best for you depending on your preferences in women. You also have to factor in that you might not be able to maintain relationships as easily with this look, that you will scare off a lot of people professionally/friendship wise, be less trusted in general, etc.
Is the bad boy only able to attract low class "high e" sluts like the sterotype? Or in actuality can he get any girl even HQNP? I don't know. Also the whole strategy seems really risky, basically it all depends on you will have to turn yourself in to a person who genuinely wants to rape girls and possibly kill them if they reject you, AND lower your inhibitions enough so that it is convincing that you actually will do it. And then hope that you run your intimidation/rape game on one of the girls who is hardwired to respond submissively to it, and hope she isn't one that will respond to it by getting the fuck away and calling the cops on you after you just convinced her you want to rape her or else you will kill her. 
TL;DR
Becoming/acting like a Bad Boy/Psychopath will make you actually genuinely, sexually attractive to some women regardless of your looks rating within reason, by making her subconsciously fear negative consequences like you killing her and her family if she rejects you. Confidence is not enough, you need to look the part (have an intimidating, congruent appearance), be physically aggressive, and genuinely appear low inhibition enough that you have nothing to lose and are willing to go ER on her ass if she doesn't fuck you. This strategy may not be possible for everyone (their appearance is so nonthreatening that they can't pull it off, they are completely submissive/good boy/aspie as fuck) is not 100% success rate, and is likely very risky and has adverse side effects on other areas of your social life.